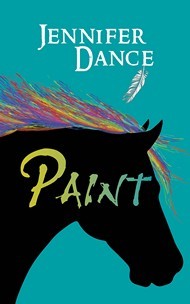 It's the late 1800s. A Lakota boy finds an orphaned mustang foal and brings her back to his family's camp. Naming her Paint for her black-and-white markings, boy and horse soon become inseparable. Together they learn to hunt buffalo, their fear of the massive beasts tempered by a growing trust in each other.
When the U.S. Cavalry attacks the camp, the pair is forced onto separate paths. Paint's fate becomes entwined with that of settlers, who bring irreversible change to the grassland, setting the stage for environmental disaster. Bought and sold several times, Paint finally finds a home with English pioneers on the Canadian Prairie.
With a great dust storm looming on the horizon, man and horse will need to work together if they hope to survive.
To be perfectly honest, I was not excited about starting this book after reading the blurb. It just seemed like it wasn't my type. The book was slow to start, but as it progressedband the story developed, I began to fall in love with Paint. The author was able to successfully portray the emotions of Paint and Rider alike. As Paint passed from owner to owner, I felt the heartache of those that had her within their grasps. I feel that this would be a wonderful book to read to a child, but maybe not for them to read by themselves. The story captivates the tale of The White Man and the horrors they brought to the native tribes everywhere in Pioneer America. As well as this, it told the story of the Great Depression and the Dust Bowl that doomed many American families. All in all, it might not be a book for everyone, but it is definitely worth a read.
I give it a 4/5 stars.
[I received a free copy of this book thanks to the publisher and Netgalley.]